Hurricane Sandy is on course for a direct hit on New York City.
Hurricane Sandy: where it will land, and how bad will the damage be? Find out more here.
The beaches look to be specially hard hit. We can expect the major flooding up and down the coast because of the combination of heavy winds, rain, and a full moon. These are the places that are most likely to see evacuations, especially further to the south from Long Island to Virginia.
The width of Sandy will also lead to widespread heavy rainfall.
From
CNN.com
Worst case, Sandy could merge with a strong cold front from the west. The double threat could morph into a "superstorm" that could sit over New England for days, making untold trouble for millions of residents. Weather experts said it's a recipe not unlike 1991's "Perfect Storm."
"Expect it to move very slowly," said James Franklin of the National Hurricane Center. "The large size of the system and its slow motion will mean a long-lasting event with two to three days of impacts."
At 8 p.m. ET Friday, forecasters said Sandy was about 400 miles south-southeast of Charleston, South Carolina, heading north at 7 mph. It was a Category 1 hurricane with winds of 75 mph. It's possible, the hurricane center says, that Sandy may weaken to a tropical storm. Nonetheless, experts said, it's not to be taken lightly.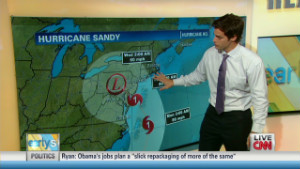 Hurricane Sandy 'storm of a lifetime'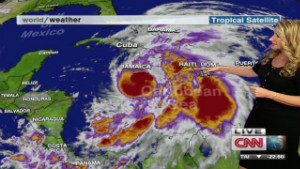 Hurricane Sandy hits Jamaica
"Forget about the category with this," said CNN meteorologist Rob Marciano. "When you have trees with leaves on them still, this kind of wind and rain on top of that, you're talking about trees that are going to come down, power lines are going to be out and the coastal flooding situation is going to be huge."
Sandy's death toll in Haiti, Jamaica and Cuba this week was 21 people.
The U.S. target area is hard to predict at this point. Some landfall computer models show the storm striking somewhere between the border separating North Carolina and Virginia north to Connecticut, some of the most densely populated areas of the country. The District of Columbia, Pennsylvania, Maryland, Virginia and New York have declared states of emergency, while Maine's governor signed a limited emergency declaration.
From News24.com:
The late-season hybrid storm has been dubbed "Frankenstorm" by some weather watchers because it will combine elements of a tropical cyclone and a winter storm. Forecast models show it will have all of the ingredients to morph into a massive and potentially catastrophic "super storm."

On its current projected track, government forecasters said, Sandy could make landfall on Monday night or Tuesday in Maryland, Delaware, New Jersey, New York or southern New England.

In New York City, the global financial hub, officials were considering closing down mass transit before the storm hits.

Coming in the final weeks before the U.S. presidential election on November 6, the storm could throw last-minute campaign travel plans into chaos.
More
here
.