Well, not yet, and certainly not in this year's tour.
Bradley Wiggins, and other riders in the peloton, resorted to throwing their water bottles in self defence as rowdy fans ran alongside them with burning flares towards the end of stage 12.
Wiggins
' yellow jersey was singed as he and his Sky colleagues forced their way through fans brandishing the flares popular at French rugby and football grounds. The incident happened just outside Sarras, 25km from the finish, and is a timely reminder of the unexpected dangers that still lurk after what had been a quiet day for the leading contenders with the peloton travelling at a leisurely pace.
"I'm covered in yellow stuff at the moment," admitted Wiggins afterwards. "I got hit on the arm with a flare at 25k to go. It burnt my arm a bit, but other than that it was all right. There were quite a few guys running up the hill with lit flares in the peloton. It was pretty dangerous and I'm sure those guys are nursing a few wounds tonight because there were quite a few bottles thrown in their direction from the peloton."
The
Tour
has a long history of unruly crowd behaviour from the earliest years when spectators covered the road with nails or tick-tacks, and there have been actual physical assaults on
riders
– Alberto Contador had to punch his way clear of a protester on Alpe D'Huez last year when his assailant used a huge mock syringe to attack the rider.
Later Wiggins, appearing the most relaxed he has been for the last fortnight, admitted that a Tour de France win would mean nothing unless people truly believed he was riding clean and vowed to address such questions whenever quizzed in the future.

"What is the point in winning the Tour de France, or attempting to win the Tour, if it's not going to be going down in history for the right reasons, with a slight amount of suspicion from certain parts of the media?," said a reflective Wiggins.
Read
the rest
.
Tour de France 2012: domestique bliss for Team Sky's Chris Froome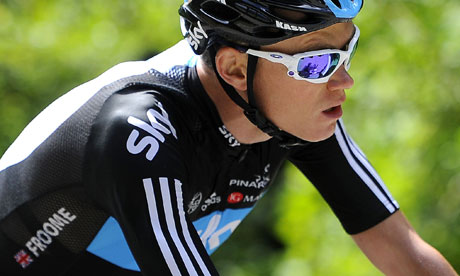 How the Guardian has reported on the unsung role of cycling's domestiques down the years
When Chris Froome was asked about challenging his team leader, Bradley Wiggins, for the yellow jersey in this year's Tour de France, the talented British rider, currently in second place behind Wiggins,
said exactly
what every domestique should say: "I'll follow orders at all costs. I'm part of a team and I have to do what the team asks me to do". It was a statement that reinforced cycling's reputation as being a feudal sport.
More than a century ago, the domestique was a description given to a rider whose self-sacrifice allowed his team leader to focus on personal glory. As a domestique (literally "servant" in French) a rider would sometimes stop at a stream to fill his captain's water bottle. If a team leader had been dropped by the pack because of a puncture his domestique rode in front of him, shielding him from the wind, so he could return to the front. The job description hasn't changed much.
Read
the rest
.