"Given that North Korea maintains an offensive posture, I think the army, the navy and the air force should unite and retaliate against (the North's) provocation with multiple-fold firepower," he said.
Two South Korean marines were killed and 15 South Korean soldiers and civilians were wounded when the North fired about 100 rounds of artillery at Yeonpyeong Island in the Yellow Sea, South Korea authorities said, according to the South Korean Yonhap news agency. The attack also set houses and forests on fire on the island.
South Korea's military responded with more than 80 rounds of artillery and deployed fighter jets to counter the fire, defense officials said.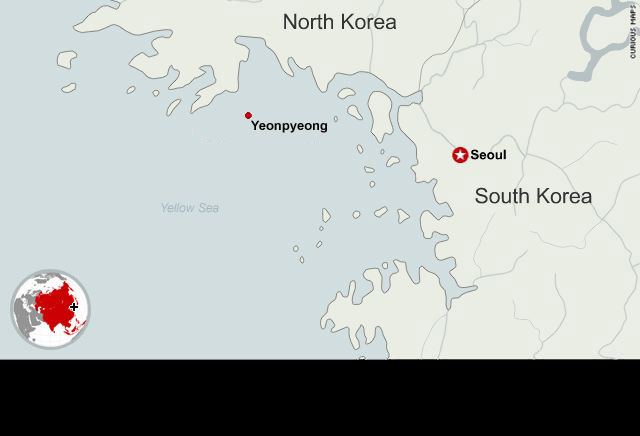 Map: N. Korea shells S. Korean island
North Korean mortar hits island
Firing between the two sides lasted for about an hour in the Yellow Sea, a longstanding flashpoint between the two Koreas. In March, a South Korean warship, the Cheonan, was sunk in the area with the loss of 46 lives in a suspected North Korean torpedo attack.
But, Yonhap reported, the incident is "the first direct artillery attack on South Korean territory since the Korean War ended in an armistice, not a formal peace treaty" in the 1950s and it has prompted great concern.
"Reckless attacks on South Korean civilians are not tolerable, especially when South Korea is providing North Korea with humanitarian aid," Lee said, according to Yonhap.
"As for such attacks on civilians, a response beyond the rule of engagement is necessary. Our military should show this through action rather than an administrative response" such as statements or talks, he said.
After the incident, Yonhap said the Seoul government "banned its nationals from entering the communist state, indefinitely postponed their scheduled Red Cross talks and began looking at ways to push the United Nations to condemn Pyongyang."
This latest action occurred during South Korean maritime military drills. North Korea said the incident stemmed from those exercises, codenamed Hoguk, and called the activity "war maneuvers for a war of aggression."
The "South Korean puppet group" engaged in "reckless military provocation" by firing "dozens of shells" inside its territorial waters "despite the repeated warnings of the DPRK" or Democratic People's Republic of Korea, the North's military said in a statement.
"The revolutionary armed forces of the DPRK standing guard over the inviolable territorial waters of the country took such decisive military step as reacting to the military provocation of the puppet group with a prompt powerful physical strike," the statement said.
"It is a traditional mode of counter-action of the army of the DPRK to counter the firing of the provocateurs with merciless strikes," said the statement, which warned that it "will unhesitatingly continue taking merciless military counter-actions against it" if the border is crossed.
Stephen Bosworth, the U.S. special envoy on North Korean denuclearization, urged restraint on both sides when he spoke to reporters about the incident. He was in Beijing to discuss nuclear matters with Chinese diplomats.
"The U.S. strongly condemns this aggression on the part of North Korea and we stand firmly with our allies. The subject did, of course, come up in my meetings with the Chinese Ministry of Foreign Affairs. I think we both share the view that such conflict is very undesirable. I expressed to them the desire that restraint to be exercised on all sides and I think we agree on that."
This incident comes after a U.S. scientist reported that North Korea has a new uranium enrichment facility. North Korean officials said the facility is operating and producing low-enriched uranium, according to Stanford University Professor Siegfried Hecker.
The enrichment facility contains 2,000 centrifuges and appears to be designed for nuclear power production, "not to boost North Korea's military capability," Hecker says.
But U.S. and South Korean diplomats said the latest relevation confirms the country's long-term deceit.
Sanctions have been progressively placed on North Korea in response to a succession of nuclear and missile tests and the sinking of the South Korean warship in March.
The United States said it would not dismiss restarting six-party talks aimed at denuclearizing the North. However, it said it would not return to negotiations unless North Korea showed good faith.
Countries that had been negotiating with North Korea over its nuclear program issued swift reaction.
The United States "strongly" condemned North Korea's action, and a U.S. Defense Department official told CNN that the "hope is that this is just one isolated incident, not an escalation into a different military posture" by the North.
Chinese Foreign Ministry spokesman Hong Lei said China had "taken note of relevant reports" and expressed its "concern." "Relevant facts need to be verified and we hope both parties make more contributions to the stability of the peninsula," he said.
Russia's Interfax news agency said Russia condemned North Korea's artillery shelling and said "those who initiated the attack on a South Korean island in the northern part of the inter-Korean maritime border line assumed enormous responsibility."
"We are insistently urging immediate measures to alleviate tensions, and avoidance of such conduct in the future."
Japanese Prime Minister Naoto Kan's cabinet held a ministerial meeting and Chief Cabinet Secretary Yoshito Sengoku announced a government statement condemning North Korea and calling the act "unpardonable."
"This provocation by North Korea compromises the peace and security of not only South Korea, but also the entire region of North East Asia, including Japan. Japan demands North Korea to stop such action immediately," the statement said.
Asked whether the violence in the Yellow Sea would make resumption of six-party talks more difficult, Bosworth said, the "resumption of the six-party talks has never been an easy process." A formal round of talks were last held a few years ago.
"But what we agreed today in my conversations here is that, from the point of view of China and the United States, we strongly believe that a multilateral diplomatic approach is the only way to realistically to resolve these problems. We are very committed to continuing to work that in every way possible."
U.N. Secretary-General Ban Ki-Moon condemned the attack and called for restraint. He urged that "any differences should be resolved by peaceful means and dialogue."
Yeonpyeong island is part of a small archipelago about 80 kilometers [49 miles] west of the South Korean port of Inchon, which serves Seoul, and is close to the tense Northern Limit Line, the maritime border between the two Koreas in the Yellow Sea.
North Korean artillery is extremely difficult to hit, because it is dug into coastal cliffs. Though the North has tested its artillery -- and tested anti-shipping missiles -- it has not fired artillery into South Korean territory in recent years. One of North Korea's most potent threats is artillery dug in along its demilitarized zone with South Korea and ranged on Seoul.
While the reason for the attack was in dispute, one North Korea watcher said the incident stems from the nuclear issue.
Choi Jin-wook, senior researcher at the Korea Institute of National Unification, said Pyongyang is "frustrated with Washington's response to their uranium program and they think that Washington has almost given up on negotiations with North Korea."
"I think they realize they can't expect anything from Washington or Seoul for several months, so I think they made the provocation."
"I definitely think this is centrally directed from Pyongyang. This can't be done without orders from Pyongyang," he added.
Meanwhile, with national leader Kim Jong Il apparently in ailing health, his son Kim Jong Un is being raised to prominence in the isolated state, in what pundits see as a succession process.