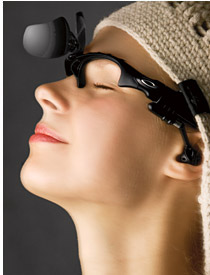 Does
everyone
have $500 to spend on shades with sounds? Oakley's website provides these
product details
for the Thump:
256 megabytes of solid-state NAND flash memory for storing up to 60 songs
The best polarized lenses on the planet
Absolute music freedom with no wires or cords to dangle or tangle
Up to 6 hours of playback time
75MHz DSP with 18-bit Sigma Delta DAC for state-of-the-art audio fidelity
Acoustic expansion speakers with forward/back booming and sideways pivoting
Flip-up lenses with raked-back contours for maximum protection against sun, wind and side impact
Patented XYZ Optics® for razor sharp clarity at all angles of vision, even at lens periphery
Plutonite lens material blocks 100% of all UVA, UVB, UVC and harmful blue light
Durable O Matter® frame with less than 1.8-ounce total weight for all-day comfort
Supports storage of data files along with song files
Includes high-speed USB cable for transferring song files from Mac or Windows PC
Are you hearing this?
OAKLEY THUMP is the ultimate addition to your digital music collection. A High-Speed USB connection lets you transfer music quickly and easily. Load the songs you want to hear now, and free yourself from digging through your entire song library so you can focus on whatever you're doing, whether it's hanging out at the beach or boosting in a halfpipe.
Here's More:
Lose the Ball and Chain
Your ears are on your head, so why should your music system hang on your waist? Oakley's digital music eyewear delivers over 60 tracks or about 4 hours of head-thumping music directly to your brain without cables or wires. Your favorite tunes are played from something you're already wearing, and OAKLEY THUMP weighs only 1.8 ounces (52 grams) - lighter than an empty CD case. Forget about bulky equipment dangling from your body and shackling your every move. Cut the cord and take OAKLEY THUMP places where tethered music players get in the way.

Durable, solid-state memory means skip-free music in environments where music players with moving parts wouldn't stand a chance. And with no hard disk to spin up and drain power, the internal rechargeable lithium-ion polymer battery offers up to six hours of continuous song play.

Advanced Cranial Hardware
Our engineers applied the same tech fanaticism that's behind the most coveted eyewear on the planet. The result: patented optics meets head-thumping sound.

We optimized the audio engine to give ultra-clean playback of compressed digital music files, even at low bit rates. That means you can pack more song files into the memory without sacrificing audio quality. And when you're pounding decibels up to the frequency limits of human hearing, the custom Mylar speakers make weaker MP3 players sound...well, weak.
What do you think? I'd like to take a closer look, and listen. That means trying them on. What if I actually like them? Will I even consider selling my TV to afford these? They look a little
clumpy and lumpy
. Maybe in a year or two they'll have developed the technology to hide all the wires into the really narrow rods of ordinary sunglasses. Now
that
would be awesome.
This holiday in South Africa, people wearing the Thump are going to draw a large percentile of attention. But having
$500
on your face in South Africa though, is like saying, "Are you a hijacker? How about you? Hi, I'm your next victim."
So in South Africa I reckon they should at least be packaged with a small firearm, a flamethrower or knife, to keep away the grubby paws of the young, the envious, and the criminally insane.
http://www.oakley.com/catalog/eyewear/thump/